Moonglow by Michael Chabon
Moonglow is not a memoir and, despite what its cover would have you believe, it's also not quite a novel. It falls somewhere in the nameless space between
the two, recounting the story of a writer named Michael Chabon and his maternal grandparents in a way that feels true but that doesn't always adhere to the facts.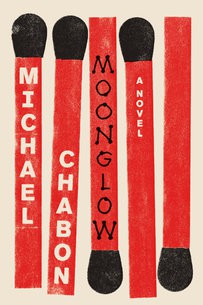 The book centers on stories Chabon's grandfather tells while lying on his deathbed, high on painkillers: stories about his childhood, his military service during World War II, his NASA career, his time in jail, his marriage. To the narration of these remembered episodes, Chabon brings the same vivid descriptive voice and engaging character development I loved in his earlier novels, crafting moving portraits of his grandparents as they grapple with the damage left by the war and navigate the fluctuations of their lives together. But Chabon abandons the more straightforward plot progressions he laid out in those books, instead jumping around in space and time and veering off on tangents in the distracted, non-linear style of real memory.
The resulting work is something new from Chabon, something beautiful, compelling, and sincere in the way of the very best family stories—and the best books.
Book I'm hoping to read: The Association of Small Bombs by Karan Mahajan
—Annika Neklason, editorial fellow
---
Thank You for Being Late by Thomas Friedman
Thomas Friedman's latest book has a simple thesis: that the characterizing feature of the 21st century is the convergence of the planet's three largest forces (technology, globalization, and climate change), and that these accelerations are transforming the workplace, politics, geopolitics, ethics, and community. Friedman convincingly builds one big case for "being late"—for, essentially, pausing to reflect on and take stock of our current period of history. His methodical, explanatory approach, similar to the one he uses in his New York Times columns, will appeal to those who have a tendency to get caught up in the daily news cycle and don't take a moment to see broader patterns emerge.
Book I'm hoping to read: Option B: Facing Adversity, Building Resilience, and Finding Joy by Sheryl Sandberg
—Annabelle Timsit, editorial fellow
---
The Rules Do Not Apply: A Memoir by Ariel Levy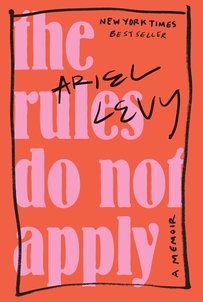 At one point in her powerful memoir, the New Yorker writer Ariel Levy observes that she had "managed to solve the Jane Austen problems that women have been confronting for centuries … in an entirely unconventional way." And for a blip, that's true. But then comes a crueler set of rules: those of nature, including fertility. Levy explores her friends' battles with conception—before losing her own child. The book tracks her overwhelming grief and her efforts to accept it. (In one poignant passage, she writes of finding companionship from her cats, who are "no more baffled by agony than they were by dishwashing.")
If you're looking for sugared-up platitudes about life and its meaning, maybe pass on this one. It left me with a sadness hangover. But Levy's memoir offers comfort for the realist: "Death comes for us," she reminds the reader. "You may get 10 minutes on this earth or you may get 80 years but nobody gets out alive." That rule very much still applies.
Book I'm hoping to read: Exit West by Mohsin Hamid
—Caroline Mimbs Nyce, assistant editor
---
The Possessed by Elif Batuman
When I read it earlier this year, I fell hard for Elif Batuman's debut novel, The Idiot. So I was excited, this summer, to delve into her earlier book, The Possessed: Adventures With Russian Books and the People Who Read Them. The nonfiction collection's unusual subtitle gives some indication of its genre-defying contents: Published in 2010, it's a first-person account of Batuman's years as a graduate student in Russian literature that manages to be laugh-out-loud funny.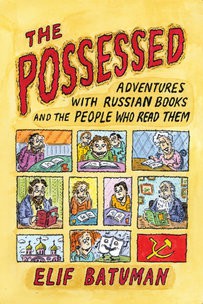 In The Possessed, as in The Idiot, Batuman punctuates the mundane with singular, sometimes self-deprecating, wit. "Air travel," she writes, "is like death: Everything is taken from you." Her ear for the absurd is matched by her ability to distill it into unflinchingly honest, delightfully readable prose replete with memorable characters. In Batuman's capable hands, obsessive grad students appear as worthy of study as their dissertation subjects. Describing a private tour of the Hermitage Museum's 18th-century wing, she contrasts her experience with that of a friend who, unlike Batuman, specializes in the period: "I soon felt the full weight of historical boredom on my soul. When I left the museum, she was gazing with a kind of rapt criticalness at the upholstery of an armchair embroidered in 1790 by pupils from the Smolny School for Aristocratic Young Ladies." Happily, this book, as much about the accident-strewn path to adulthood as about history, is never boring.
Book I'm hoping to read: Fear City by Kim Phillips-Fein
—Amy Weiss-Meyer, associate editor
---
Exit West by Mohsin Hamid
Mohsin Hamid's novel Exit West is many things: It's a window into the daily lives, mundane and beautiful and horrifying, of Nadia and Saeed, two students living through their unnamed country's civil war. The bombs, death, tragedy, and fear intersperse with work and a budding romance. It's also a story of magical escape, which starts when Nadia and Saeed utilize mystical doors that instantly transport them away from one danger and often into another—first Greece, then the United Kingdom, and eventually the United States. Finally, it reflects on what it takes to make a new place home, and whether that is even possible.
While Hamid's plot takes the reader along a geographic journey, it's his protagonists' emotional and psychological arcs that provide the story's real narrative. Hamid weaves in acknowledgements of the physical and external hardships and dangers associated with refugee life, but his complicated portrayal of how two people, bound by extreme circumstance, must try to reinvent themselves in new places prove to be the most illuminating part of Exit West.
Through their meeting and subsequent flight, Hamid uses Nadia and Saeed to explore questions of religion, love, family, gender, and migration. It's a tall task that the book delivers on gracefully and thoughtfully.  
Book I'm hoping to read: The Color of L​aw: A Forgotten History of How Our Government Segregated America by Richard Rothstein
—Gillian B. White, senior associate editor